I'm not sure when I became THAT mom, the one who shows people a picture of her baby without them even asking, but here I am. About 2 seconds after Lena was born, I had already put together a beautiful birth announcement on Shutterfly.com, which is my new go-to photo site for creating all means of Lena-centric stationery and gifts. I find it much easier to select christmas gifts for our parents now that they've become grandparents, because as long as there's a photo of the baby involved, I know they'll love whatever we give them. One of our go-to gifts since we got married has been a calendar of photos that my talented husband has taken throughout the year, and I think we'll definitely go that route again. There's this awesome desk calendar that i'm considering; however, now that our parents are all retired, there are definitely less desks on which to place it! Or how about a mouse pad? I might have to get one of these for myself, actually. I think my favorite, though, is this sweet ornament. I love the idea that every year when they decorate their Christmas tree, they will see the photo of their little Lena and remember her first Christmas. 
I also love receiving photo cards during the holidays! There are so many cute ones out there, but I think i've chosen this one to send out to our friends and family. I won't show you the photo we're using though, because that will spoil the surprise for the people who will be receiving a christmas card from us, many of whom read this blog! Although here's the runner up!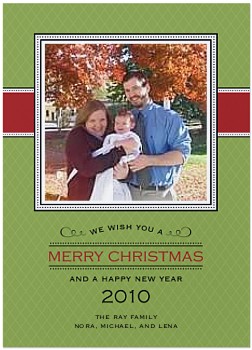 Retro Metro Christmas Card
I also love the fact that I can skip trying to think of something original and interesting to write in each card; the message on these cards are short and sweet and to the point. And I love Shutterfly because they're giving me an opportunity to write about them while also giving me 50 free photo cards. If you are a blogger and want in on this action too, here's the link!